Welcome to the fourth challenge of the day for primary school children. These challenges are open-ended, purposeful tasks, differentiated for different abilities, that your child can enjoy every day. Please share your outcomes with the group to receive both teacher and peer feedback. Enjoy yourselves!
Today's challenge is about celebrating stories. If you only do one thing while you're at home, make it reading! This task asks children to think of their favourite story and celebrate it through discussion, pictures, crafts, a fact file or recommendation.
CELEBRATE A STORY
Preschoolers, Reception, Year 1 and Year 2: Talk to your child about their favourite story. Read it together and discuss characters, plot, likes and dislikes. Write down some of their ideas or allow them to. Them explore ways to celebrate the story. This might be:
drawing pictures
acting it out with toy characters
Creating a craft like a junk model
Making the story out of play dough
Years 3, 4, 5 and 6: The focus is now switching to writing for an audience. Ask your child to consider why they might recommend this book to others who are also stuck at home. How could they present this so it is clear for others to understand? How can they use images, titles and bullet points to organise their work? What is so great about the book? Older children could write a review in the style of 'Trip Advisor'.
Please don't feel you have to stick to the year group options; let your child choose the option that best suits them. We'd love you to share the results online in our group for peer and teacher feedback. When you share, please include a photo of the book. Enjoy!
Ask A Teacher and Challenge of the day are run on a voluntary basis by Bella Learning. If you have a child aged 3, 4 or 5, you may be interested in purchasing this Bella Learning Games pack – another fun way to keep learning going at home. NOW HALF PRICE!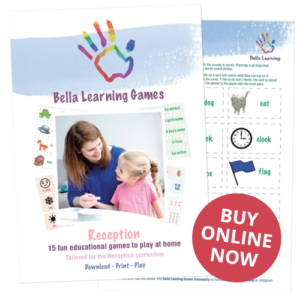 Please follow and like us: