IF YOU ARE ENJOYING THE CHALLENGES PLEASE LET US KNOW!
Welcome to the fifth challenge of the day for primary school children. These challenges are open-ended, purposeful tasks, differentiated for different abilities, that your child can enjoy every day. Please share your outcomes with the group to receive both teacher and peer feedback. Enjoy yourselves!
Today's challenge is to create a family tree. This task asks children to think about the people close to them and to celebrate where they come from.
MAKE A FAMILY TREE
Preschoolers, Reception, Year 1 and Year 2: Talk to your child about family. What does it mean? Who is in your family? How are you all related? Then help them to create a tree with pens, paints or collage materials. Write or ask your child to write the names of family members on separate pieces of paper and then stick them on the tree, talking about the relationships – use words like 'uncle', 'cousin', 'parent' and 'siblings'.
Years 3, 4, 5 and 6: Ask the children to think about how to clearly present the family tree, showing the connections between the members. They may then want to add more details, such as full names, dates of birth and occupations. This may require research such as calling older members of the family.
Please don't feel you have to stick to the year group options; let your child choose the option that best suits them. We'd love you to share the results online in our group for peer and teacher feedback. When you share, please include a photo of the book. Enjoy!
Ask A Teacher and Challenge of the day are run on a voluntary basis by Bella Learning. If you have a child aged 3, 4 or 5, you may be interested in purchasing this Bella Learning Games pack – another fun way to keep learning going at home. NOW HALF PRICE!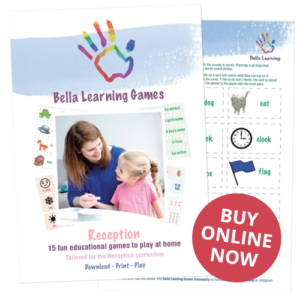 Please follow and like us: