Welcome to the eighth challenge of the day for primary school children. These challenges are open-ended, purposeful tasks, differentiated for different abilities, that your child can enjoy every day. Please share your outcomes with the group to receive both teacher and peer feedback. Enjoy yourselves!
Today's challenge is about questioning. This task asks children to think of questions to ask a relative, to interview them and to record the answers.
INTERVIEW A RELATIVE
Preschoolers, Reception, Year 1 and Year 2: Talk to your child about questions they might like to ask a particular relative or friend over the phone or video call. Help them to design a few questions to ask – think about different question stems (who, what, where, when, why, how). You might scribe the questions for them or they might have a go themselves. Get them to practise the questions out loud before asking them and then help them to record the answers.
Years 3, 4, 5 and 6: As above but ask your child to imagine they are a journalist and that they are writing an article about a relative. Ask them to think of suitable questions. They might be about the person's past, or about how they are coping with the lockdown. Help them to turn the answers into a written interview as seen in newspapers and magazines. You could then send a copy to the subject!
Please don't feel you have to stick to the year group options; let your child choose the option that best suits them. We'd love you to share the results online in our group for peer and teacher feedback. Enjoy!
Ask A Teacher and Challenge of the day are run on a voluntary basis by Bella Learning. If you have a child aged 3, 4 or 5, you may be interested in purchasing this Bella Learning Games pack – another fun way to keep learning going at home. NOW HALF PRICE!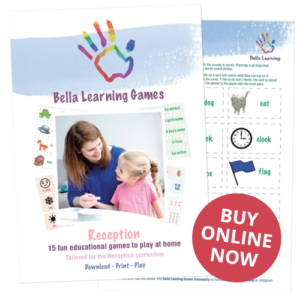 Please follow and like us: